Parsley Bacon's eldest son, Parsley Samuel Bacon 1839-1922, whose Roman Catholic mother was Frances Horsnell, rose from the very humblest of beginnings to become headmaster of the Jesuit St Aloysius College in Glasgow; it seems that he was also a much loved pastoral priest in the slums of Victorian Glasgow.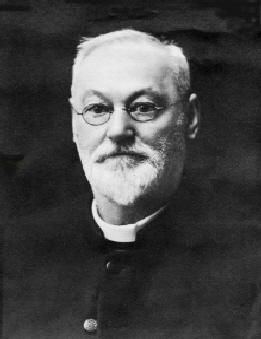 All that Auntie Di could remember was that he was a Roman Catholic priest, known as Father Francis Bacon. I searched high and low for a record of him in the England census returns, after 1851, with no success. In 1851 Parsley, aged 12, is living at home with his parents, his elder sister Ann, and two younger siblings, James and Jane. "Home" was 36 Cambridge Road, Bethnal Green, and Parsley Bacon senior is listed as following the trade of cheesemonger. In 1861 Parsley would have been 22, quite possibly living independently away from the family home. His father had just died. Try as I might, I have been unable to trace him in the Census for that year, which is a pity, because his occupation could have been a useful pointer to his future.
Since I subsequently failed to find Parsley in any other England census - I foolishly limited my searches to the London area – something made me decide to check the Scottish census records as well. Suddenly my fruitless searches were at an end – I traced Father Francis Bacon to St Aloysius College in Glasgow: he was there in 1881, 1891 and 1901 (the 1911 Scottish census is not yet available as I write). I then found a record of him in the 1871 census, as a mature student, studying at Stonyhurst College, a Jesuit seminary in Lancashire. His name is recorded in that census as Parsley Francis Edward Bacon. It is possible that he took the names Francis and Edward on his conversion to Catholicism in 1866.
Having at last made some headway with Parsley, I looked up St Aloysius College on the internet (as one does these days) and was very surprised and pleased to find a web page for a lively Catholic institution, offering a secondary school education to boys and girls in Glasgow. I sent an e-mail addressed to the archivist (hoping against hope that there was one) and asking if I might find any further information on the career of my distant relative. I was even more surprised (and delighted) to receive a very prompt reply. Here I will let John McCabe, Director of Alumni of the school, take over Father Francis' story;
In an extract from a talk which he gave to the pupils in 2009 he said:-
"Tomorrow evening at 5.45 pm, Archbishop Conti will preside at a Mass in this church. It will be a special Mass to celebrate the laying of the foundation stone 100 years ago on 4th October, 1908.
Next year, our school, St. Aloysius College will be celebrating its 150th birthday having opened on 12th September 1859. In the history of our College there have been 29 Headmasters including the current holder of that role, Mr Stoer. Four of these had rather longer periods in office than most others. The longest serving was Father Eric Hanson who was in charge from 1901 to 1926 and who increased the roll and established the school as one of the leading academic institutions in Scotland.
Father John Tracy served for 14 years and during that time the College's reputation for excellence was confirmed. Father Tony Richmond also spent 14 years in charge and ensured the school's survival by two important decisions: he oversaw the transition from a grant-aided school to an independent one and in 1980 the admission of girls. The last of these long serving priests was one whom many of you will remember, Father Adrian Porter, under whose guidance the College grew in numbers and many important changes took place, including the building of the new Junior School and the Clavius building. But none of these men would have been here; the College would have ceased to exist if it were not for one man, Father Francis Bacon, Headmaster from 1875-78.
Father Bacon was a remarkable man; he had been an Anglican but converted to Catholicism at the age of twenty seven and then joined the Society of Jesus in 1868. He was ordained priest in 1875 and came to St. Aloysius' College that same year faced with the task of rescuing a failing enterprise from extinction.
The roll had dropped to a total of 47 boys and many expected it to close, in fact some people thought that it had closed. The Provincial sent him to Glasgow to rescue this school or if he could not do this, then close it down. He had no magic wand but he did have incredible zeal and unbounded enthusiasm. His day began at 5 am with Mass and then he travelled as far afield as Dumbarton, Helensburgh, Greenock, Port Glasgow and in the east Bathgate and Falkirk persuading parents of the value of a senior education: this in the days of horse drawn transport. In five hectic and demanding years he increased the roll from 47 to 170, raised the standards and created an interest in the school which had been previously unknown. But there was a price to pay and Fr. Bacon's health suffered and he had to step down from school work in 1880.
After a short break he returned to this parish and devoted his efforts to the bettering of the social conditions then pertaining in the Cowcaddens, one of the poorest districts in the whole of Glasgow. This was a district of crowded, damp and dreary tenements inhabited by the poorest of the poor. Employment was often scarce and many young people drifted into petty crime, often because they had nothing to occupy them. Father Bacon founded the Boys League of the Cross which later became the Confraternity of Our Lady of Genezzano. He had no money but he found money for the rent of halls, for the furniture, (billiard tables, reading tables, benches, chairs, games, pets etc.) Often he could be observed with his jacket off, sleeves rolled up, sweeping floors, carrying coals or inflating footballs. He originated evening classes, organized retreats, arranged outings in summer and, in times of unemployment, provided soup kitchens.
By the early 1920s the Cowcaddens district was being renovated and houses demolished. In May, 1922 the Glasgow Evening News commented on the renovation of the Cowcaddens area which resulted in a large number of evictions affecting the poorest sections of the inhabitants. Cowcaddens was a district which because of the large number of extremely deprived inhabitants, had attracted a number of philanthropists and, as the paper claimed, '' without protest, work of years is being undone.'' The article continued to say that three institutions had been brought to an end not one of which can be spared. It then mentioned the three institutions, The Old Women's Workroom, where poor older women could gather to work, and earn a little money to keep themselves and show that they still counted, and The Girls' Club which provided a meeting place for young girls just out of school and enabled them to pass their time in a light hearted and enjoyable manner and acquire basic skills.
I will now quote from the article: '' Last of the three but foremost in importance was Father Bacon's Club. Everyone knew the once-alert, white-bearded figure, familiar for so many years, who has now celebrated his jubilee and walks bent and frail about the narrow streets where the lads are devoted to his name. No sentimentalist was the padre; he kept a firm hand on his lads, but he led them on the right way. Is it any wonder that he is stricken by the breaking up of the club that has carried on for thirty years and has had 4,000 young men on its books, turning out some fine citizens from unpromising material. Ask the Northern Police of the enormous influence for good of Father Bacon's Boys, of the big Temperance Society, The League of the Cross. The lads served their country gallantly and many made the ultimate sacrifice willingly in the recent Great War, and those who have come back are being deprived of the club which was the pivot of their social life and activities. Where are they to go now? There are cinemas, public houses, ice cream parlours and resorts even less reliable; and for all the public care the lads are welcome to go there. That such an ameliorative influence as the Boys' Club should be threatened, that in such a neighbourhood as that of 'The Rat Pit' it should be possible to wipe out of existence such a benevolent and flourishing organization is surely regrettable. '' That extract sums up the immense work of Father Bacon.
On the occasion of his Golden Jubilee as a member of the Society of Jesus in 1918, towards the end of World War 1, at a presentation in the College hall, Father Bacon's efforts were recognized and towards the end of the evening Mr E V Hutchinson, President of the Aloysian Association, handed over a cheque for £610 remarking at the same time that cheques had come from all over the British Isles and from every theatre of war on land and sea This money was to be devoted to the erection of a marble pulpit in St Aloysius' church. Today, I have chosen to address you from that pulpit, and those below me will see that there is a small black plaque with the inscription, '' In memory of the Rev. Francis Bacon, S J, Golden Jubilee.'' Do look at it when you have time.
If you would like to know more about the history of this beautiful church, a short history has just been published and will be on sale from tomorrow evening."
Thank you.
John McCabe
Alumni Director